2019 Jacksonville Florida City Council District 10
We are planning on holding a debate for the Jacksonville Florida City Council District 8 races in 2019. We are currently reaching out to the candidates and inviting them to answer questions for the voters. If you have a question you would like asked, please send them to us at debatequestions@ezdebate.com. Also, please contact your candidates and invite them to participate. We will be listing the candidates as they agree to participate.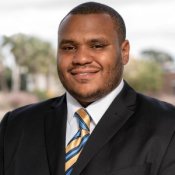 Kevin Monroe
Participation Confirmed
Kevin Monroe is a native of Jacksonville, educated in the Duval County Public Schools. He graduated from Florida State College of Jacksonville with a degree in Business. Kevin has been actively working in his community for the past 14 years. He has been a teacher for the past 8 years, working closely with children and their families to provide them with services. He has partnered with the African-American Mental Health Initiative (AAMHI) to bring awareness in communities about mental health issues. He is the President of the Young Black Caucus of Jacksonville, fostering relationships within the business community in Jacksonville. He is also a life-long member of Philippian Community Church. Kevin Monroe is a dedicated and caring voice for the citizens of District 10.